Creative Studio
Creative Studio is an alternative education scheme funded by schools and local authorities.
Creative Studio provides a tailor-made specialist alternative arts programme for young people who need extra support and don't fit into a traditional educational setting. Our workers specialise in working with young people who need extra support, due to issues such as autism or other educational needs.
The sessions run every day and are usually two hours long.
Young people can do a range of activities such as:
Painting and drawing – working with one of our artists to create original artwork
Animation – including stop motion animation and computer based animation and video effects
Music – working with one of our producers to create beats, rap, play guitar or work as a group to start a band
Video – making a music video or short film
Upcycling – creating new bits of art from old bits of junk
Sculpture – getting creative with anything that's around in the Soft Touch materials store – get encouraged by our visual artists, and see what you can make
Cooking – Through our Arts Cafe, Participants can learn to cook healthy food, with encouragement and guidance from our project staff, and also contribute to our cafe by selling the food that is made. This encourages young people to cook, be Healthy, experience new food and also to that you can make money out of the things you make.
We also offer Arts Award:  through Arts Award's five levels children and young people aged up to 25 can explore any art form including performing arts, visual arts, literature, media and multimedia. The Award builds confidence, helps young people to enjoy cultural activities, and prepares them for further education or employment.
We offer Arts Award to all our participants on Creative Studio.
Most young people who decide to do the Arts Award do the Level 1 Bronze Award, but participants can also get involved in Silver (Level 2) and Gold (Level 3).
Creative Studio works with children and young people aged 5-19, with generally one to two people per session. It's a friendly arts project designed to give participants a more personalised experience which keeps them engaged through arts and music and moving on in their lives, whether that's getting back into eduction, raising aspirations or enabling them to develop social skills.
One parent of a participant said "Lauren wasn't too keen on the photography at the start, but she's been showing us her work at home and she's really quite proud of it which is brilliant. Thank you so much."
The sessions are designed to keep young people engaged and moving on in their life, raising aspirations, allowing them to feel good about what they have achieved and social skills to enable them to get on well with people.
There is a variety of amazing work created some which was unveiled by HRH Prince Edward when our centre opened in 2015; we put on an annual public exhibition to showcase the fantastic talent and achievements of the Creative Studio participants.
If you are interested in or would like to enrol students please call 0116 255 2592 or email joe@soft-touch.org.uk
See below for some written evaluations from participants of Creative Studio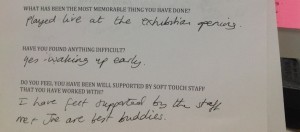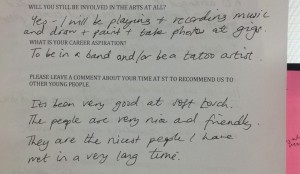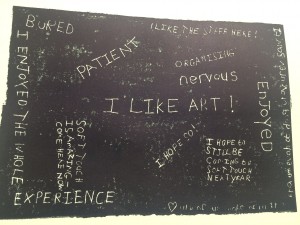 UKPRN: 10043249
50 New Walk
Leicester
LE1 6TF